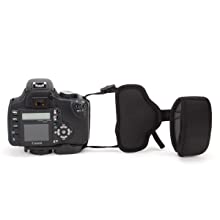 Durable Construction
The professional grip camera hand wrist strap utilizes a durable metal connection that is strong enough to support anything from micro four thirds to DSLR cameras. No more fatigue when you're out on the next photo shoot.
Secure Connection
Shoot quick shots, above crowd shots and extended photography sessions without fatigue! The secure strap allows for photos to be shot within seconds.
Snap On, Snap Off
In addition, the strap features a fully adjustable design for any hand size and a quick-release lock system. This allows you to easily free your hand when needed yet still hook back into the strap in.
Mounting Option
If you're shooting for an extended time and want something a little more stable, just latch it on to your tripod. The DualGRIP provides stability by connecting to both your camera's strap and tripod mount. Keep your mind at ease. The tripod connection offers added security while still providing a place to connect your tripod or monopod.