Dual Compartment Storage
The Bi-Fold design of the S13 allows your to store your larger hair styling items in one protective compartment that features a strap to hold it in place, while the other compartment can be customized to hold all sorts of equipment including, blow dryers, clippers, curling irons, straighteners, and more cosmetic tools.
Rugged & Professional
The semi-rigid design protects your tools and equipment from bumps, scratches, and drops and easily fits in trunks, underneath seats, and anywhere else. The base of the bag is lined with a water resistant lining that prevents any moisture from getting inside the bag. Impact resistant, durable, and portable, USA Gear's hair stylist bag has a professional design with practical benefits.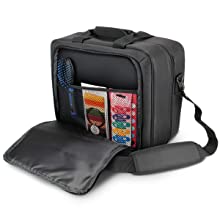 Extra Storage Pocket
A side access zippered pocket is perfect for storing small items like hair clips, hairbands, combs and brushes. Keep organized and ensure that you are ready with every accessory you'll need during a client appointment, when preparing for a big event, or just bringing your hair accessories with you on a vacation.
**CASE ONLY, Accessories NOT included**
Compact Design
Ideal for travel, the USA Gear hairstylist bag is designed with a semi-rigid rectangular shape in order to fit in storage cabins on planes, buses, and fits neatly into various spaces. Made from heavy duty Ripstop nylon material, the S13 travel case is built to protect your equipment and accessories from bumps, minor drops, and abrasive damage common during travel.